When it comes to selecting your daily attire, there are several fitting factors to consider. Not only is the physical shape of clothing important, but so are the psychological and behavioural aspects of it. Many of us have warm jumpers, hoodies, puffy outerwear, and even custom t-shirts tucked away in our closets. However, having a resourceful wardrobe is not the same as stressing over what to wear on a particular day.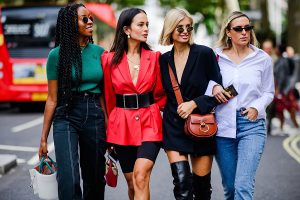 Choosing The Right Outfit For Your Lifestyle
First, we will talk about how to dress for your personality and lifestyle so that you look real, stylish, and even suitable for any occasion.
If you have not already, you should spend a few minutes figuring out who you are. Many of you may realize that you have a "business" you and a "private life" you.
The two are sometimes opposites and involve quite different clothing choices. You may have more personality types, and you should not be concerned because it is good to recognize each aspect of your unique and complicated existence.
When it comes to fashion, personality, and lifestyle, there are two factors to consider: our style essence and our style expression.
The essence of your style is your personality, who you truly are, and what you enjoy. It is what makes you feel most at ease, honest, and genuine.
In comparison, your style expression is how you carry and show yourself in front of the public. It includes your wardrobe, hair, cosmetics, accessories, and other fashion items.
Unfortunately, when we dress in a sense that does not reveal our true style essence, we deliver the world with a puzzling style expression. Thus, we must learn to present a balanced and delightful expression of our genuine fashion essence.
How Clothing Options Can Improve Your Lifestyle
Now, we will learn how to define our style essence and how it will help to improve our daily life. The first step is to take a notepad and pen, then write down anything you do in a typical week.
Knowing your weekly routine will keep you from purchasing clothes that you will only wear for specific events. You can also avoid this by keeping all-purpose items in your wardrobe that cover the large percentage of the events you want to participate in year-round.
When determining the type of clothing you need the most, the rules are pretty simple: buy the things you need, keep the things that make you happy, and toss away everything else.
Even though the big plan here is to keep the essentials only, it doesn't mean you should throw away all the accessories you have. Keeping one or two things in your wardrobe can be handy at times.
Belts, for example, can help in adding a touch of formality to your casual attire. Another great way to keep you looking fresh every day is by swapping accessories with your friends. Look for someone who has a similar taste to you.
Final Thoughts
Finding the right harmony between your lifestyle and fashion choices is not always easy. For many of us, it can take years to create our own impressive, awe-inspiring, yet genuine clothing style.
Even so, the explanation above can help you in creating a more fashionable and authentic version of yourself. Be open to new ideas and don't hesitate to experiment with different styles and patterns.